Miko Mikulicz
My story with music and the violin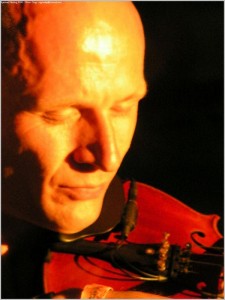 Playing violin and piano was my thing since I was 5 years old. With my exam on the Highschool in Hannover, I am a stately aprooved diplom violinplayer – yees … something for the orchestra and classic freaks.
But Pink Floyd was crossing my way when I was 15, so the dream of my mum to see me as classical violinplayer was gone into the wind quite early.
It wasn't easy to decide for the way of rock, and to trust in this way, but it looked so much more exciting. So I had many experiences in different rockbands, this was very unusual, like an adventure of challenges of playing violin. One of them  is still active today: Panama Red – now playing for over 24 years.
Many experiments in different styles followed. I played on Hip Hop productions in the studio of the german group "Die Fantastischen Vier", to join a production of André Heller. So with time I got a whole mosaic of feelings for different ways of playing the violin.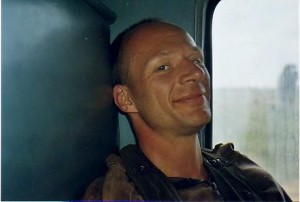 The next really big influence for me was India with their musical roots – so I had to go there definitly – the first time I stayed six month, the violin with me and ready to play at any time. This journey left many traces in my way of  playing violin.
The magic violin meets psychedelic trance
On the first July of 1995 I came to one little sweet cool party in the middle of the forest near Hamburg Horn (if anybody has still got the flyer of this party: please please contact me!!). And in no time I was infected with the virus of Goatrance.
The first attemps to find a step into this psychedelic scene with a violin was not easy. But what I saw in this movement was a wonderful continuation of the psychedelic 60ies and 70ies, so it touched me very much at that time. But it seemed the time still wasn't prepared for fusions of electronic sounds with acoustic instruments. So I had the impulse to change that.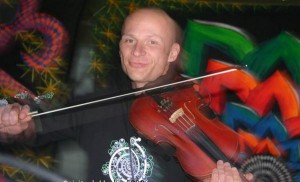 In 1999 Finally I joined Klangstrahler Project and we released a very professional work in this way. The 2001 album "Im Rausch der Sinne" is a timeless milestone of electronic music, and is now a well known and much looked after release worldwide. That made me really smile!
In the time that followed I felt to reach a new dimension in my violin playing. I played on all biggest parties, also international ones, but now in a more minimal way, because it was more to express myself with lesser keys and sounds. But, of course, if the music goes off, I still love to rock the violin, – yeeaah!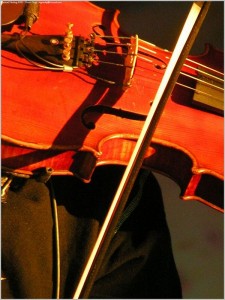 A wonderful CD album named "Liquid dreams" was released in 2006 together with MaFaiza, Veet Sandeh and me on violin and piano – a really mystical chillout trip with many indian vibes, – really big!
Since 2005, I was involved in many liveshows, really cool ones with U-Recken, Zero Cult, SiebZehN, Star Sounds Orchestra, where I could feel freedom in this time to expand my visions of playing violin.
My projects with violin and piano
It's quiet interesting, that there is also one solo album of me, recorded in 2006, only Miko without any other musicians – but expects that to be the ultimative madness of violin will wait endless: it's a pure album of piano solos, only own compositions.
I'm so happy I met Christian as SiebZehN, he became a very closed friend to me, his tracks are outstanding! One track of us will be released on the next Fahrenheit 7 release on the Ultimae label soon. And we work on a lot more!
At the moment I'm involved in following projects:
www.panama-red.eu – acoustic grooves since 24 years
www.spiritual-healing-records.de – that's Konstantin and me, you can see us on nearly all fat tranceparties and his sensible Spiritual Healing Open Air is now known worldwide, so cool!!
www.rangin.de – oriental meets oxident, an acoustic guitar travel with violin, now also since over 10 years.
www.klangstrahler-records.de – with Gero Bode
Groovepiraten – a DJ & live performance mainly in electronic worldgroove feeling.
So all in all, yeah, everything is moving, and I'm still ever open for new experiences – contact me.